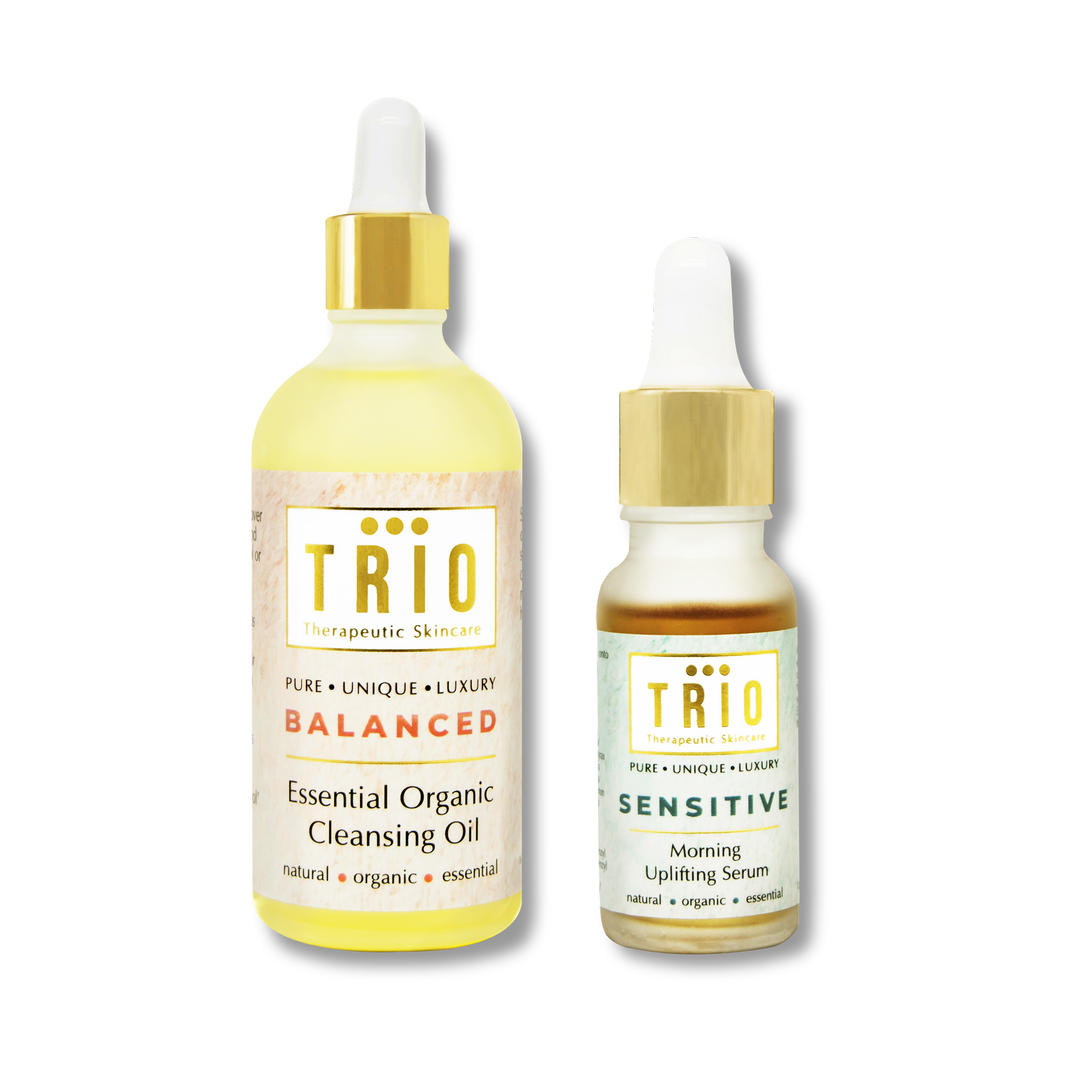 Trio Organic Cleansing Oil, Morning Uplifting Serum (Set)
Regular price
£138.00
Sale price
£55.20
Save 60%
/
Tax included.
Shipping
calculated at checkout.
---
In stock, ready to ship

Inventory on the way
In this set you receive:
- BALANCED - ESSENTIAL ORGANIC CLEANSING OIL
- SENSITIVE - MORNING UPLIFTING SERUM

All products are full size and come with a gift box

TRIO THERAPEUTIC SKINCARE - BALANCED - ESSENTIAL ORGANIC CLEANSING OIL
Sandalwood & neroli essential oils are blended in a base of sunflower oil to deeply cleanse and moisturise the skin whilst rejuvenating and promoting healthy skin.
TRIO THERAPEUTIC SKINCARE- SENSITIVE - MORNING UPLIFTING SERUM

A deluxe rejuvenating and reviving serum to promote a radiant complexion. Scented with frankincense, patchouli and ylang-ylang for an uplifting aroma. Vitamin E and St Johns Wort deeply nourish the skin and enhance the mood. 
About Balanced Collection 
The Balanced Collection was created primarily to bring balance, harmony and relaxation to those going through treatment for cancer or for use by those who have been through chemotherapy, surgery or radiotherapy. The blends of essential oils were chosen for their calming or mood-boosting properties as well as for their delightful fragrance. The Balanced collection draws much more on the remedial qualities of essential oils.
About Sensitive Collection
For those with moderate skin conditions. The 5 products in this collection contain nourishing mango and shea butter to moisturise and soothe. Essential oils frankincense, lavender and mandarin, associated with anti-ageing, provide a comforting and uplifting fragrance. Benzoin, ylang-ylang and patchouli are grounding and balancing.
About Trio Therapeutic Skincare
TRIO Therapeutic Skincare was created specifically for those who wanted a completely natural yet premium, luxurious range of beauty products that are safe and beneficial for women going through cancer treatment; such as chemotherapy, radiotherapy and surgery.
The products in the collection are 100% natural and use carefully selected organic ingredients. 
Created with the help of experts and the NHS, these natural, luxurious and indulgent specialist skincare products are perfect for dry, sore, itchy, flaky and sensitive skin, and help to combat some of the side effects of cancer treatments.
Made in the UK