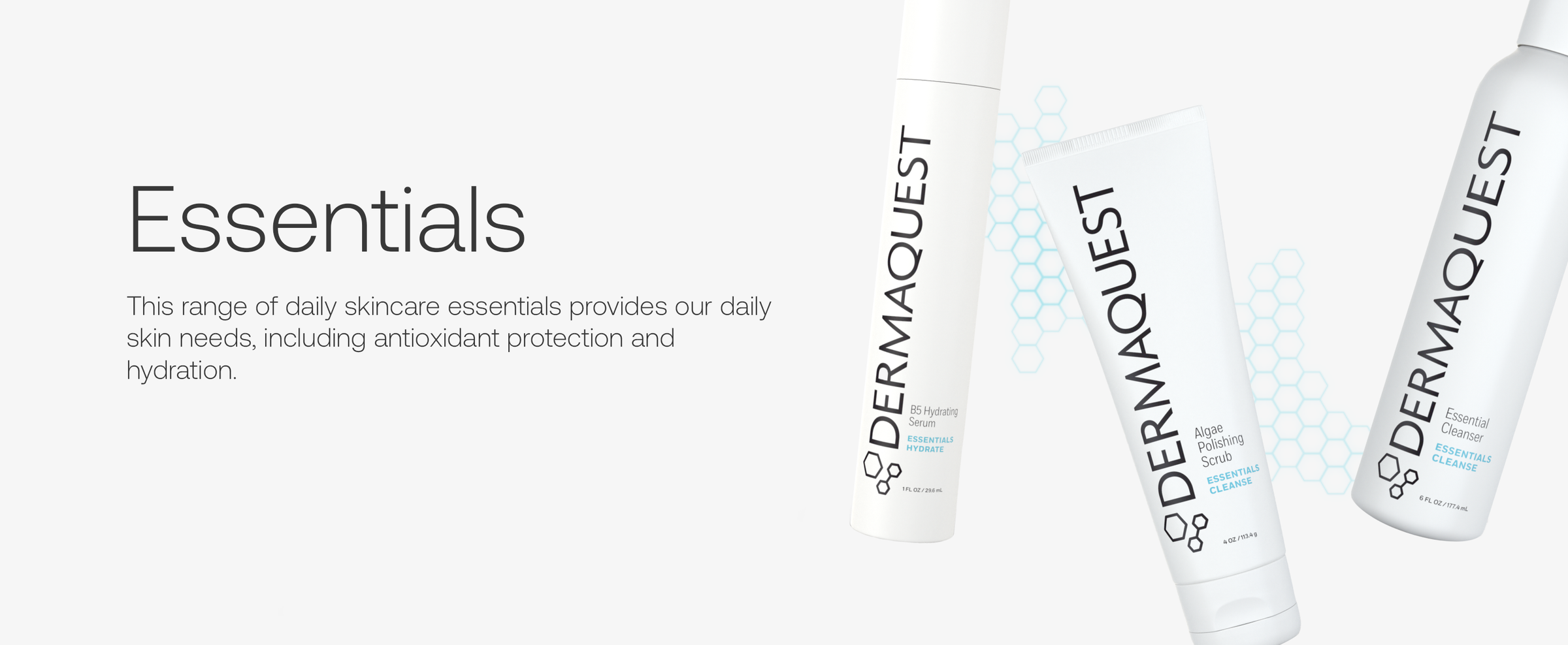 Being one of our most popular skincare brands at EF Skin, DermaQuest UK's distinctive use of plant stem cell technology provides some unbeatable results for the skin. Having been producing innovative skincare products since 1999, DermaQuest creates solutions for multiple common skin concerns and desires. With an innovative range of products featuring advanced delivery systems and unique layer technology, find the perfect solution with DermaQuest skin products.
With ranges carefully formulated for all forms of skin concern, try DermaQuest UK range for yourself. Popular ranges include DermaClear to target acne, SkinBrite for any dark spots and hyperpigmentation (especially the DermaQuest Eyebrite for the undereyes) and C Infusion for your daily dose of vitamin C. 
DermaQuest UK Solutions for All Skin Types
The DermaQuest skincare range contains only the highest quality of ingredients and utilises formulations derived from continual research and development. Their team of professional aestheticians and chemists go above and beyond to provide outstanding result driven solutions that cannot be found elsewhere, teaming science with beauty for cutting edge results. Find out more about the benefits of just some of the most common skin concerns:
The Essential B5 Hydrating DermaQuest skin products are enriched with effective ingredients for stimulating collagen production and cell rejuvenation to smooth out any fine lines and leave you with that desirable youthful glow. The advanced liposome technology in DermaQuest products deeply penetrates the skin to provide essential moisture and added nutrition to leave you with optimum results. You can also try the DermaQuest Delicate Daily Moisturizer to soothe the skin and replenish moisture.
The DermaQuest UK team has developed a solution to effectively soothe and treat oil-causing acne lesions and blemishes at their source, which includes the renowned DermaClear Mask. The treatments, found in the acne management kit, are non-drying and fully safe to use, reducing inflammation and speeding up the healing process to provide a clearer complexion. The powerful 10% benzoyl peroxide used in DermaQuest spot treatments delivers oxygen to inflamed follicles which in turn lessens the breakouts and prevents spreading.
Strengthening of ageing skin
The cutting edge DermaQuest stem cell rebuilding complex helps repair fragile skin through the power of plant stem cells and protein treatment. Maturing skin naturally creates less collagen and elastin which results in fragile, dull, and wrinkling skin but this doesn't have to be the case. These unique DermaQuest skin products infuse the skin with antioxidants and vitamins to deeply hydrate and nourish, leaving you feeling younger in no time.
Try DermaQuest Skin Products for Yourself
If you are interested in testing out the DermaQuest UK range for yourself and notice the benefits on your skin, shop the extensive range to find the ideal solution for you. With cleansers, moisturisers, serums, masks and more to choose from, there is a product for everyone which can be easily implemented into your skincare routine.
At EF Skin, we continue to stock a wide range of DermaQuest products online to offer an extensive choice to those looking to bring back their youthful glow. We also offer free standard across the UK shipping on all orders over £100.