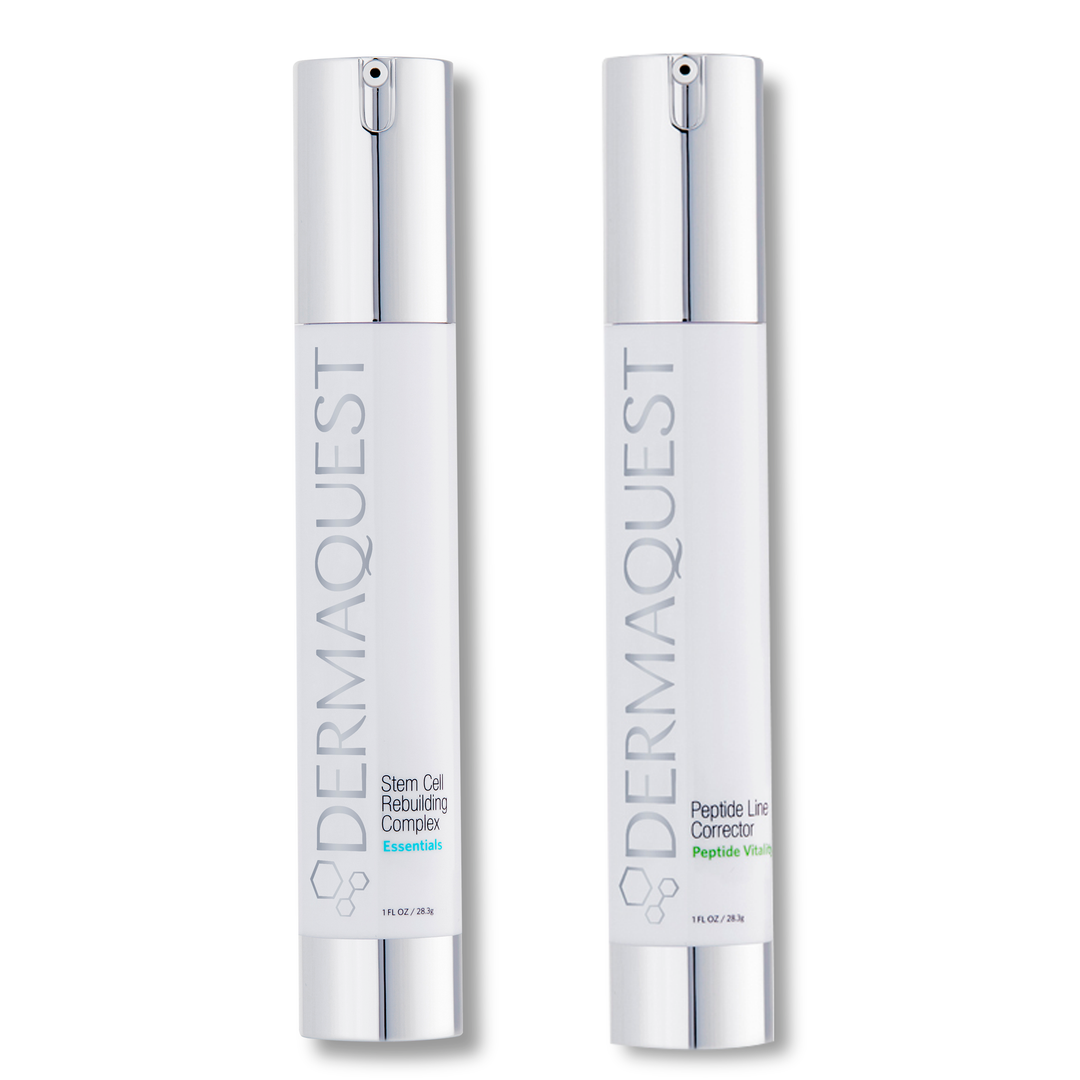 Dermaquest Duo Stem Cell Rebuilding Complex & Peptide Line Corrector
Regular price
£199.00
/
Tax included.
Shipping
calculated at checkout.
---
In stock, ready to ship

Inventory on the way
Stem Cell Rebuilding Complex

restore skin's strength and vitality with stem cell rebuilding complex. plant stem cells protect and nurture healthy skin cells, making it an ideal addition to any regimen. plant stem cells provide the skin with antioxidant and anti-inflammatory protection while supporting the repair process of the skin.  while this serum works to immediately lift and plump fine lines and wrinkles it also works to reduces lines and wrinkles by up to 15% for every 20 days of use. an ideal addition to any regimen, stem cell rebuilding complex is a hydrating, healing and age-fighting powerhouse.
complimentary products:
stem cell 3d eye lift
essential B5 Hydrating Serum
C Infusion serum
essential moisturizer
C Infusion TX Mask
best for: stem cell rebuilding complex is appropriate for all types of skin, particularly skin that needs rebuilding. enhance collagen and elastin fibres to plump fine lines, diminish the appearance of pore size and post-acne scarring

Peptide Line Corrector

peptide line corrector is dermaquest's fountain of youth. this formula is fortified with a 60% peptide solution to address ageing on multiple levels. neurotransmitter inhibitors like syn-ake, work to decrease facial muscle movement, thereby reducing the depth of wrinkles. syn-coll increases the thickness of the dermis by activating collagen production. cyclotetrapeptide-24 strengthens the epidermal-dermal junction while preventing the breakdown of collagen. powerful wrinkle reduction and renewed elasticity, improved tone and texture, increased firmness all lead to reinvented, more youthful skin.
complimentary products:
Stem Cell 3D Cleanser
C Infusion TX Mask
algae polishing scrub
stem cell 3d eye lift
stem cell 3d complex
best for peptide line corrector is appropriate for all types of skin. it is ideal for anyone looking to change the tone, texture and overall quality of the skin. not suitable for acne-prone or breakout-prone skins.